If you own one of the 459,526 horse farms in the US, you likely are looking for practical ways to spruce up your space. Using a horse farm rug is not only an awesome way to make your space visually appealing- it's essential to making your space safer for farmers, visitors, and horses alike.

Here, we're going to talk about what a horse stable rug is and how it can help your ranch. Read on to learn both aesthetics and the practicalities behind choosing and laying out the best rugs for a ranch in 2021.
What Is a Horse Farm Rug?
A horse farm rug is exactly what it sounds like: a custom floor mat that you layout on the grounds within your ranch. These rugs come in a wide variety of styles and can be placed anywhere within your building to make for a safer and more appealing space.

These rugs come with a non-slip backing that helps workers not to slip when carrying heavy tools for grooming horses and cleaning stables. They also come in a huge number of different shapes and sizes so that you can choose the one that best fits your space.
If you aren't a ranch owner but rather are simply a horse enthusiast, that's totally fine! You can still get custom rugs for the home with horse-related designs and use them as welcome mats for your house. These rugs also make a great addition to any kitchen, bathroom, or living space with hardwood flooring that you want to use to express yourself.
What Are the Benefits of Having One?
There are many benefits to having a horse rug that you place on your ranch. The first is, of course, that they make your space more appealing to those who set foot in it. In many cases, that may just be the farmers or the cleaners that come in to maintain your steeds and stables. This gets them in the right frame of mind to interact with the animals and groom them to perfection.

In other instances, it may mean that you get the opportunity to showcase your brand to farm visitors. If you offer horseback riding lessons or equestrian adventures, then printing your logo on a custom mat will make your space memorable to visitors. Graphics and images make you more memorable and therefore inspire brand loyalty.
It will likely be in the pictures that they take of themselves and your children as they mount your horses. When they go back and look at the pictures later, they'll remember what your ranch is called and what a good time they had learning to ride your horses. This is a great way to encourage repeat adventurers or get people to sign up for regular riding lessons with your professionals.
Another huge benefit to using custom rugs around a ranch building is that they make a safer space. Falls account for over 8 million hospital visits annually, and areas that get a lot of dirt and grime buildup are much more likely to be accident-heavy. When you consider the mud and manure that horses track throughout ranches, a rug truly can help your farm to be a safer place.
Where Should You Place Your Rug?
To keep your ranch as safe a space as possible, you'll want to place a horse rug at the entrance to your ranch. This is also a great location to place your rug for the sake of cleanliness- instead of tracking grime into the ranch, horses and humans alike can wipe their feet on the rug. It's much easier to wash a custom door mat than it is to clean an entire floor, so you'll save time and resources.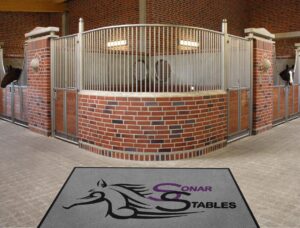 For the sake of brand building, you should also place a custom mat in the area where people initially sign forms and mount their horses. Adrenaline and excitement are likely to be high right before the adventure begins, which means that it will be the location at which people take the most photos.
Another (much plainer) rug can also be placed in an area where the horses stand. This will give them a much comfier padded area to rest their feet while they sleep and eat. It also will catch manure and make it easier for stable workers to clean, which is a boon to all of your workers.
What Horse Rug Designs Can You Get?

When it comes to the best horse rug designs that you can have printed on a rug, the sky's the limit! Some ideas include:
Your logo, brand name, slogan, and contact information (if you run a commercial ranch)
An image of the location where equestrian adventures take place (hilltops, plains, etc)
A photo of one of your best horses so that you can showcase the steeds that you're proudest of
A picture of the interior (or exterior) of your ranch to show where you've made your home
Images of people interacting with your horses (to showcase how fun and friendly they are)
All you need to do is ask Rug Rats how to size and upload your images to their website. Once you do that, we'll happily print your rug design and ship it directly to your ranch's doorstep!
Get Rugs for a Horse Ranch Today
Now that you know what a horse farm rug is and what the benefits of having one are, it's time to race into style.
Contact us with any remaining questions that you have on getting a custom horse farm rug for your ranch. Our experts will get back to you soon with design ideas, prices, and more. You also can check out the quote link on our home page to get an estimate as to how much your specific project will cost.
We look forward to hearing from you soon!